I
f you happened to turn your Internet dial to Ward Games today, you may have noticed a small change — namely, we don't look like a generic WordPress blog anymore!
After a year and a half of development, I'm excited to finally unveil the brand-spanking-new Ward Games website! We've been long overdue for a makeover, but a combination of limited time and the fact that I didn't want to continue using WordPress meant that this task continued to get delayed.
But I eventually sat down to work on a design that befitted all the great work everyone does here at Ward Games. Here's a side by side of the original mockups I did and the new homepage: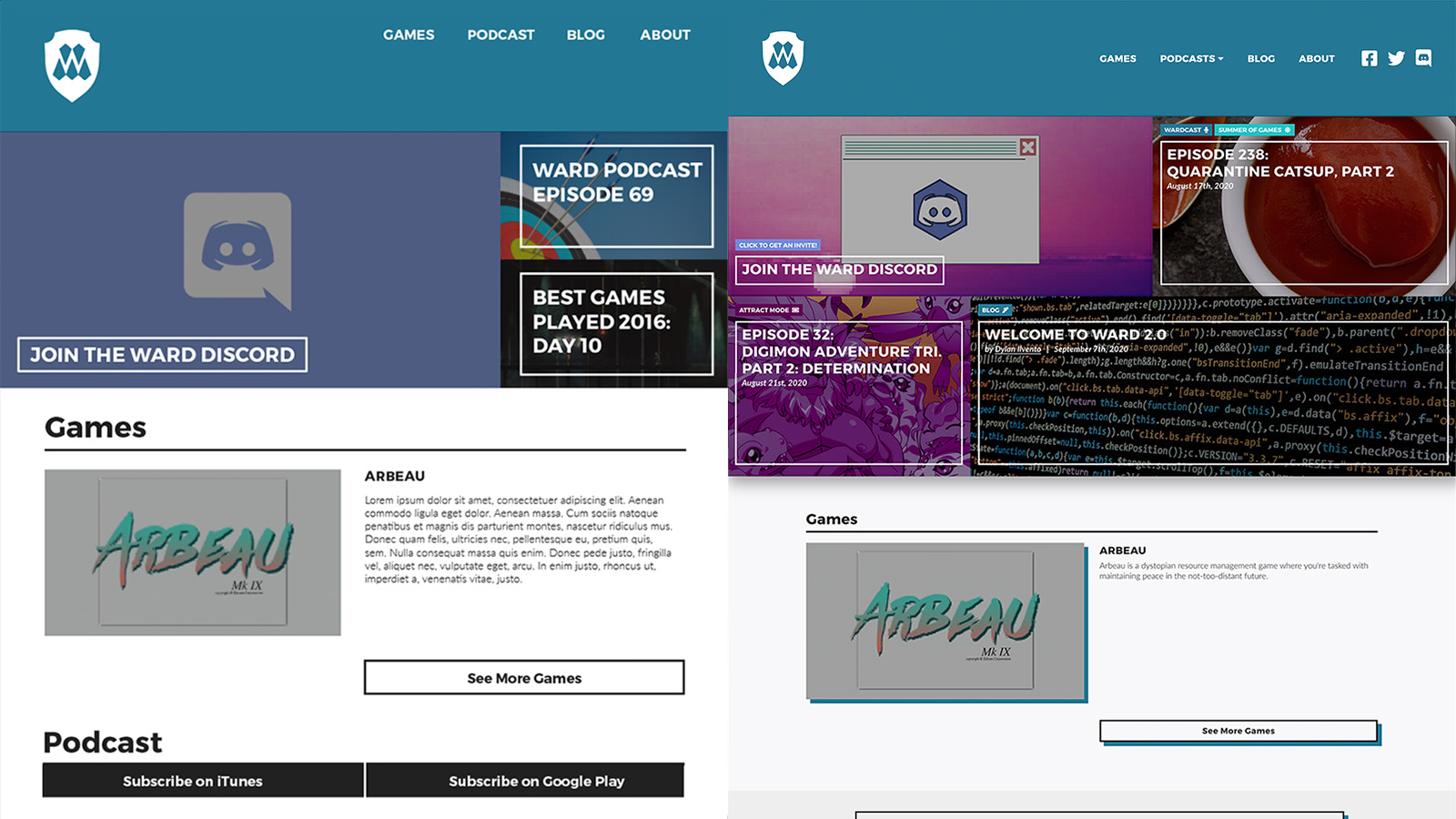 Look at the latest Wardcast that's showcased in the mockup: Episode Sixty-Nine (nice). That was January 2017, over three and a half years ago. Needless to say, I have wanted to give the Wardsite a fresh coat of paint for a while.
Here's a side by side for said naughty-numbered podcast episode: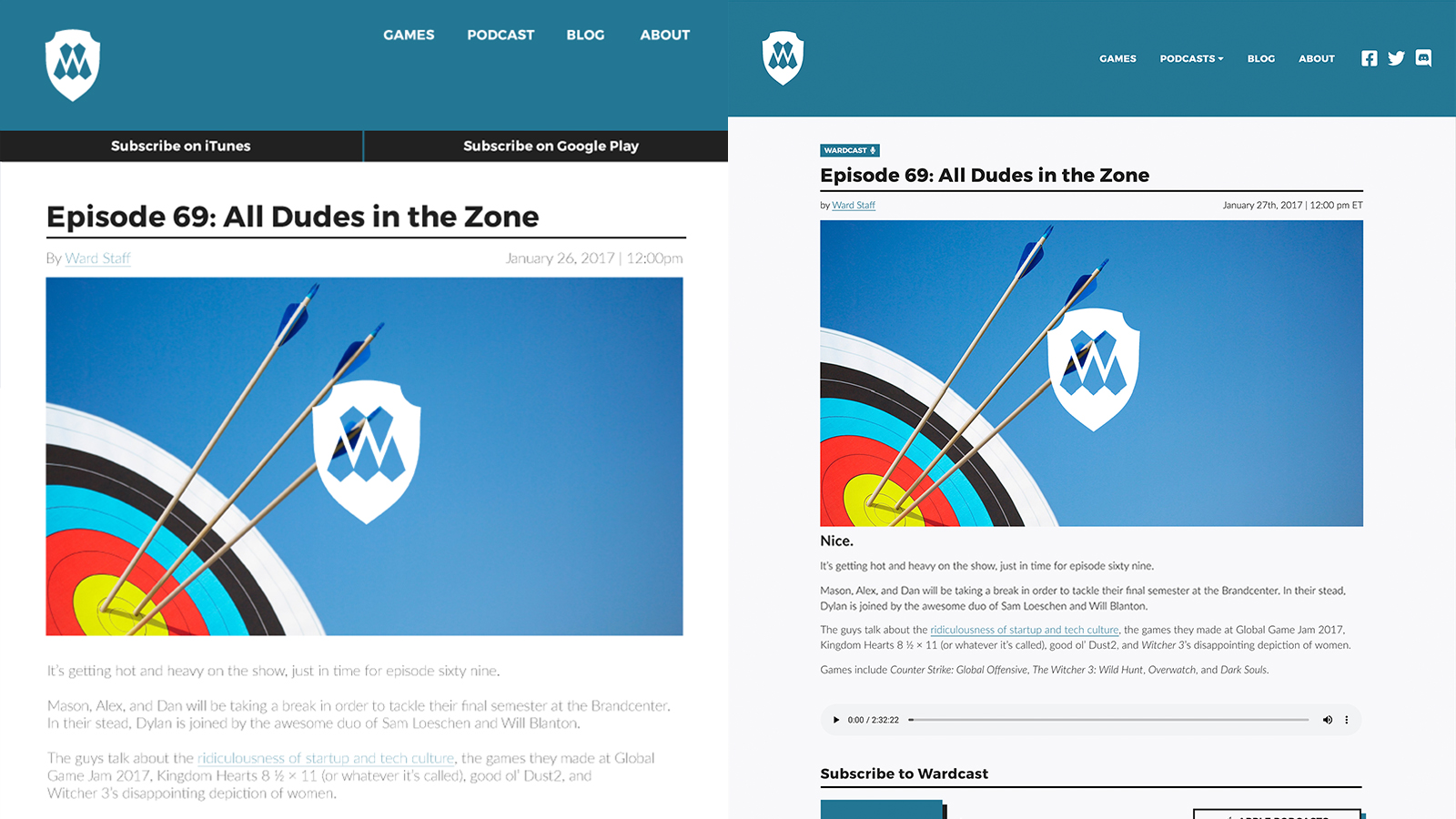 I'm extremely proud of being able to capture the original vision I had for the new site while also adding and adjusting some things — a tagging system has become absolutely necessary for the growing amount of content we have and boy am I glad that I didn't stick to having the podcast subscribe links sit right underneath the navbar.
"Alright Dylan," you may be thinking, "you're obviously proud of all the work you've done. Can I go explore the site now?" Well, you could do that, or you could check out the rest of this post where I've picked out some parts of the site to further gush about highlight. Maybe it'll help you discover a bit of content you didn't know we had, or, at the very least, I can use this post to test the blogging features of the site one last time before we go live.
Onward!
Podcast Pages
Right off the bat, you can see that the episode pages for Wardcast and Attract Mode both have a lot of spiffy changes. Key among them: podcast art! I remember when we started doing social cards for Wardcast episodes — I needed images for each one to help catch the eye, so I started using images tied to the episode title and slapping the ol' Ward shield on top.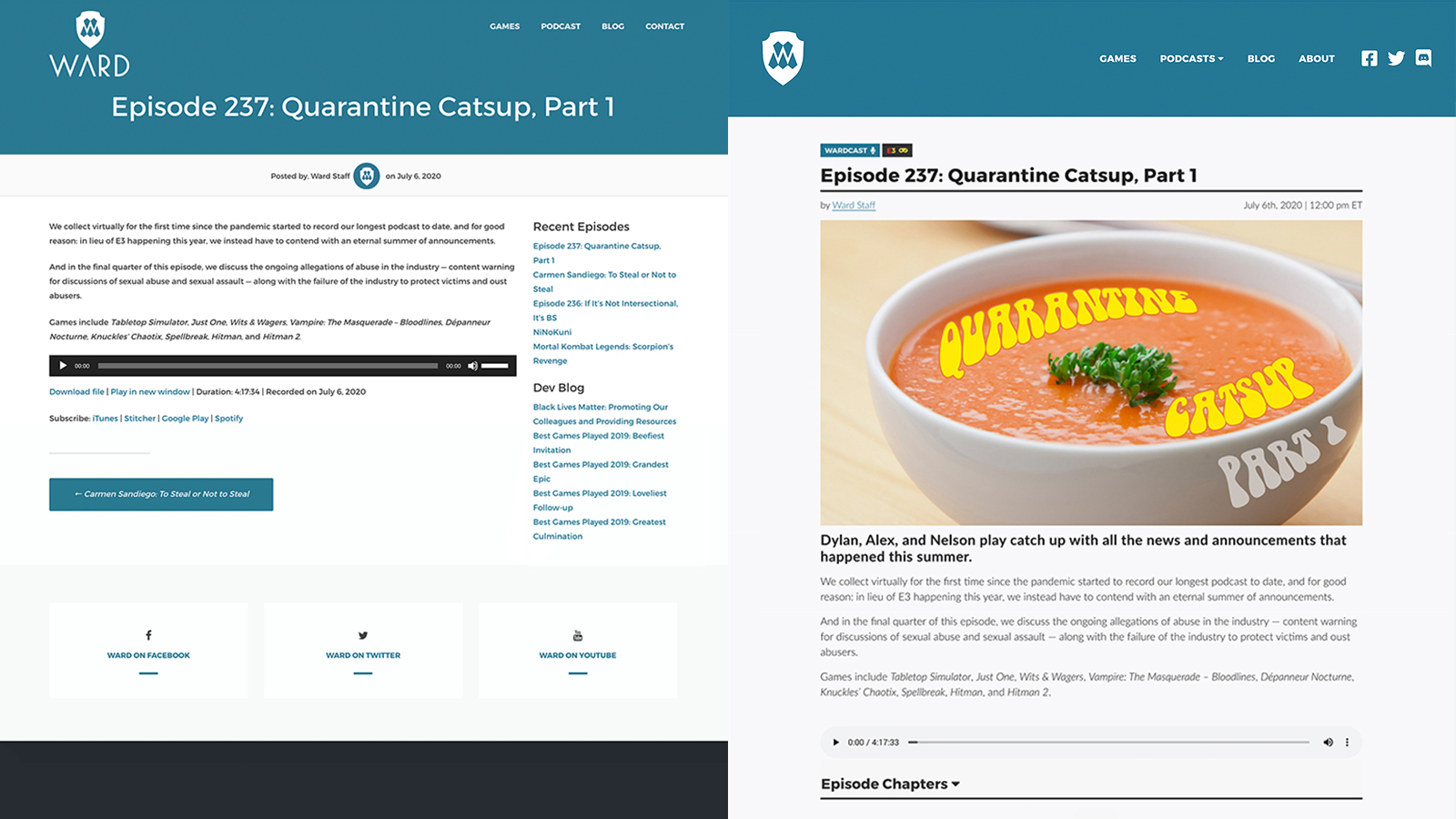 Now that's all paying off with these awesome hero images we have for each episode! An image is worth a thousand words as they say.
Some other handy features: a more comprehensive collection of places to subscribe to our podcasts. The old site's CMS had support for Apple Podcasts, Google Podcasts, Spotify, and Stitcher; I've made it so the new site links to all of these services as well as Pocket Casts, our own RSS feed, and any other platforms we would want in the future. If folks would like links on the site to any other services, feel free to reach out to me and I can add them posthaste!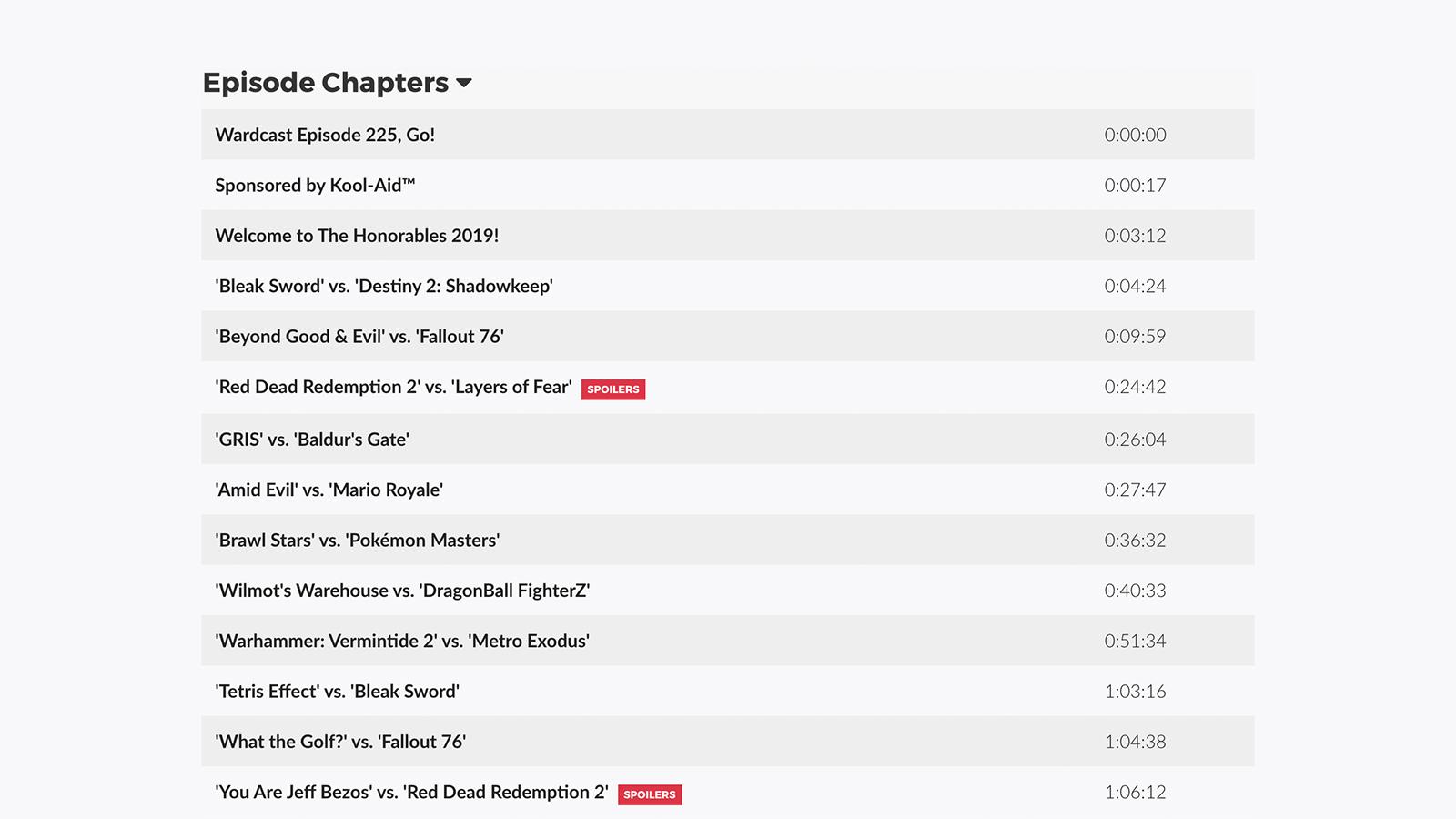 Another thing I'm really excited about: episode chapters. The libraries we use to build the site also have very comprehensive podcast RSS support. It allows us to do things like add chapters to each episode, which are supported in most podcast players. So if you're curious what conversations are happening on any given episode and for how long, these handy milestones will let you know! And since we discuss game spoilers as well as sensitive topics on Wardcast, we'll use these chapter headings to mark when a conversation has spoilers or a content warning. I want to go back and add chapters to every Wardcast episode in the archive, but that will definitely be a long-term project. For the meantime, every episode going forward will be sure to have chapters to help you navigate our discussions!
Game Pages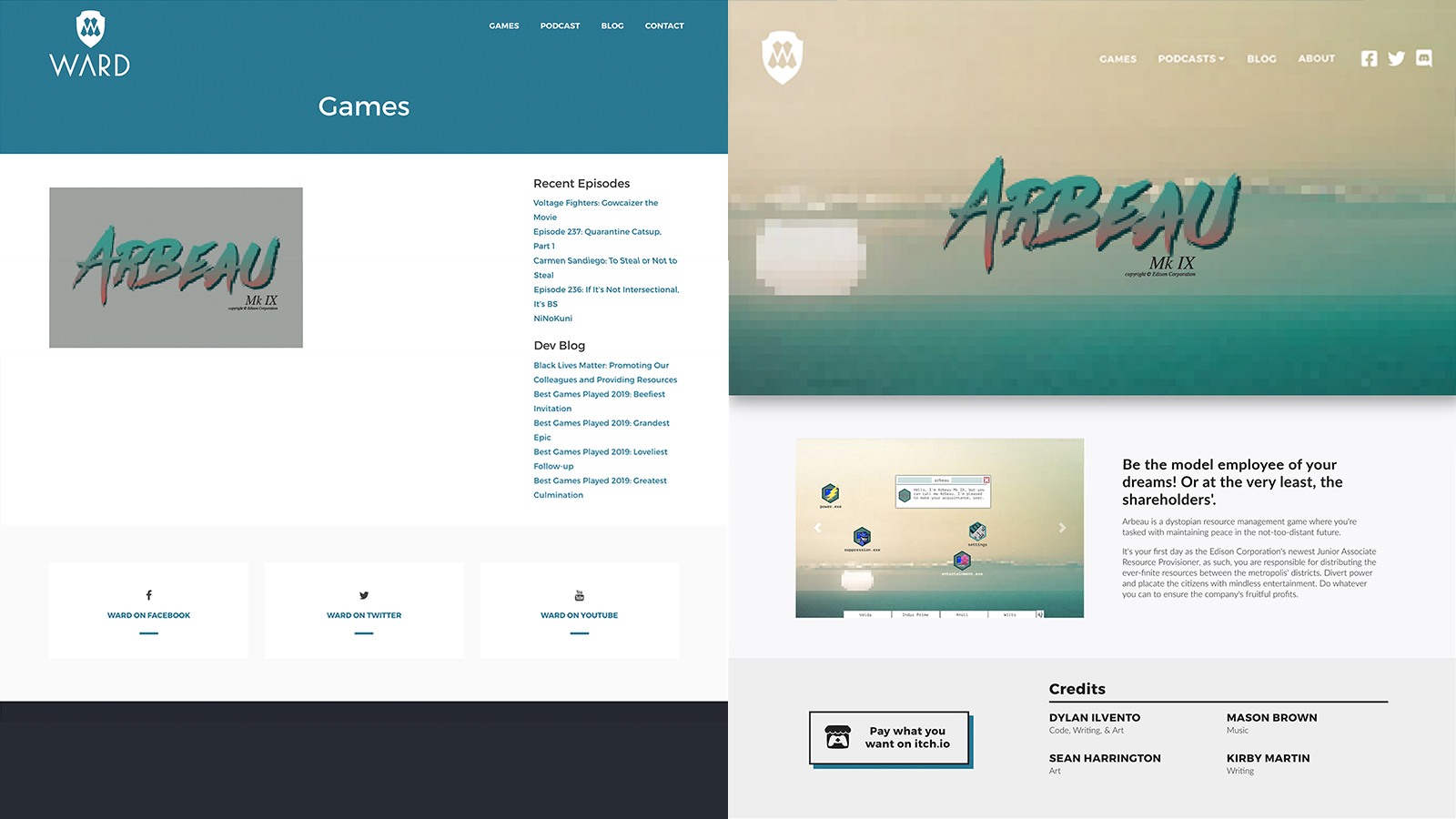 This is Ward Games after all, so where would we be without a revamp to the games section of the site? In the past, our Game page just gave you a game icon swatch and kicked you over to itch.io. No more of that! Now, every game has a beautiful, dedicated landing page.
These pages will most likely change slightly for each project and its current stage of development, but some common elements will always be there: title and logo (duh), our collaborators on the project, and where you can buy the game.
We'll also have on these pages the latest blog posts and podcasts discussing the game, which we're able to do easily using another new feature — tags!
Tags, Tags, and More Tags
Like I mentioned earlier, we now have a tagging system that's used pretty extensively throughout the site. It's used for the obvious stuff, like the Wardcast, Attract Mode, and our blog, but we also use it for any recurring topics that for any of our content: major gaming events we go to and discuss, all of our games, the games of the awesome developers we have on the Wardcast, and so much more! After I migrated all of the content to the new site, I saw how much you could mix and match all of our work with tags.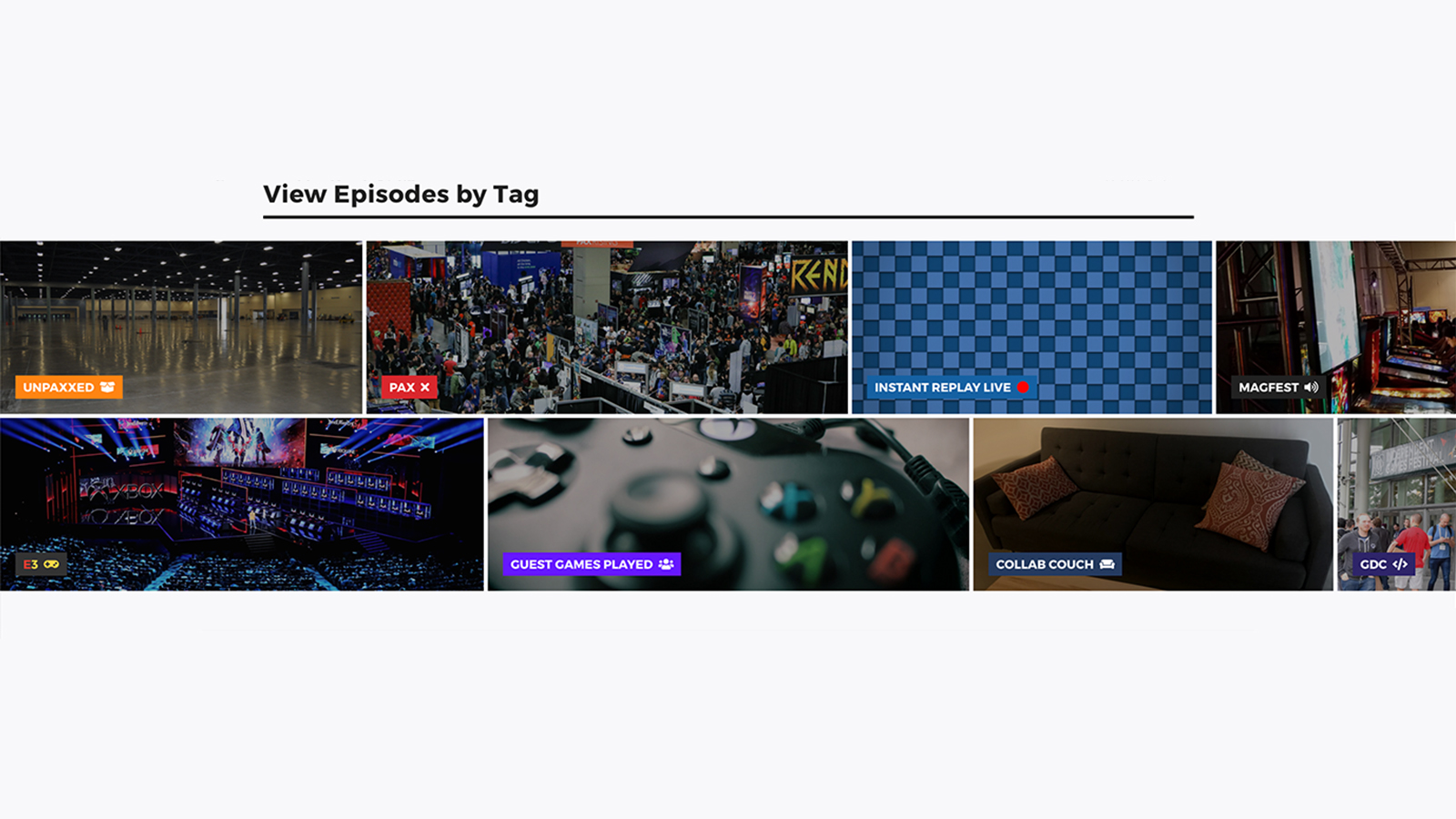 You want to see all of our updates and podcast episodes concerning PAX? You got it. Need a list of every time the Instant Replay Live boys came on the show? Sure thing. What if you wanted to see each fighting game movie we ever discussed on Attract Mode? God help you, but not a problem! Want to see every panel we've done? Right. A. Way.
Most of the tags on the site will direct to an archive list of everything that falls under that tag, but some will take you to dedicated hub pages — Hidden Gems, Into the MAG, Best Games Played, and our game and podcast tags all work this way. So if you like any particular blog, podcast, or event, check the tags, and see what else is there waiting for you!
Best Games Played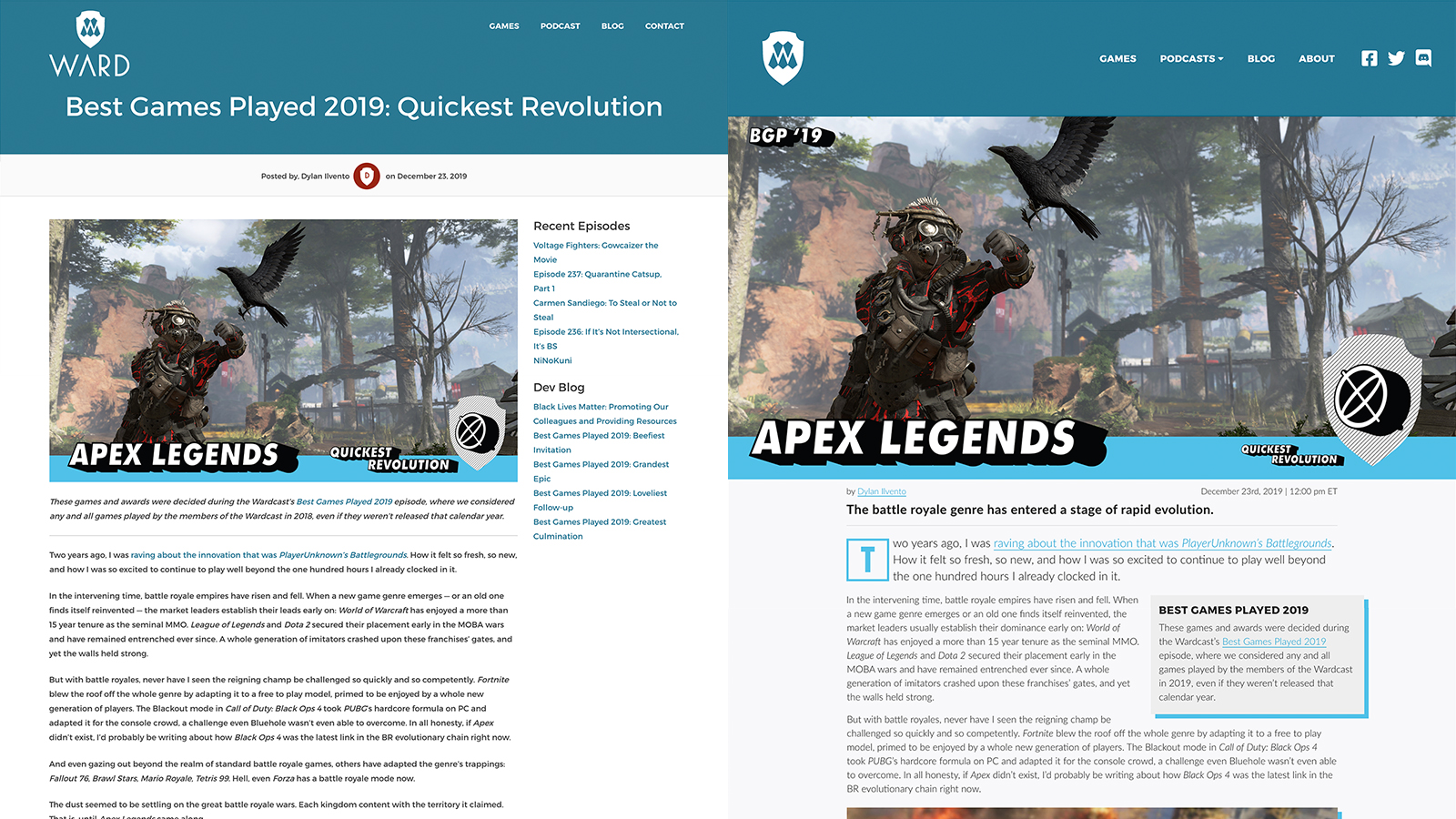 Our yearly game of the year showcase — Best Games Played — is a pretty big part of our non-games work, and I wanted to give it the spit and polish it's due. BGP has always had its own branding and look, but we've never been able to fully capture it on the site. Now, every game we showcase on BGP has a beautiful giant header where the game title, awards, and badges can be shown off in its full glory. All this stuff is responsive too, so it'll look great whether it's on your phone, tablet, or computer.
Things to Come
And we have even more great stuff for the site planned on the horizon.
There may be a new game project to discuss soon, who's to say? But if such a thing were to happen, one would hope we would leverage this new, beautiful site to keep you posted about it, as well as bring you awesome development blogs about how to make such a cool project. If such a thing were real, that is.
But beyond teasing future projects, I'll constantly be adding little bits and bobs to the new site — one thing I'm itching to do is to make it so you can click on the episode chapters to take you straight to that timestamp — and I'll let you know whenever these features become available.
But for now, welcome to the dawn of a new Ward age!